Moving? This Is How You Make Your Move Smoother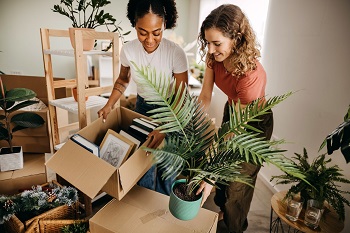 By Julie DeLong, A-1 Freeman Moving Group
When you happen to be in the process of moving or a move is in your near future, you are likely aware that lots of work goes into it. From sorting through and packing your belongings to selecting a
moving company in Denver
and preparing everything for your new abode, moving isn't a small job.
On moving day, the last thing you want is for anything to not go well. Here are a few ideas on what you can do early on to be sure your move goes as smoothly as possible.
Several Items to Do on Moving Day to Help It Go Smoother
Be certain someone is there: Either you or perhaps a responsible adult must be present for the duration of the move to sign moving company documents and supervise the move. This will help circumvent any misunderstanding or miscommunication between you and the professional movers in Denver. The movers will also be grateful for having someone available to answer any questions and give directions.
Clear the way: Be sure there is an unobstructed pathway heading to the front door so that the moving team might simply carry cartons and furniture in and out. Additionally, remove all tripping hazards both in and out of the house. This can help thwart any falls or issues.
Walk through the residence: Once the professional movers in Denver arrive, go around your residence with them and note all items of special importance or things which shall not be transported on the moving truck. If you have any irreplaceable belongings you'll take with you on the move, make sure they're packed up and out of the way. These items include items such as jewelry, important paperwork, and family treasures. This can help to ensure that these things are safe and also that nothing gets left behind. After the professional movers in Denver are done loading the moving truck, do another walkthrough of your home to ensure all items are accounted for.
Formulate a plan: Creating a general plan for where you want to place things in your new house makes the moving process much more simple. Make certain to label each box with its contents and the room it need to be put in so the movers will be able to easily put everything in its correct spot. For moving day, you will want to have a few things set aside, for example snacks, drinks, toiletries, as well as a change of clothes. Think about putting together a moving day survival bag. Place these things up in a bag or box so that you can quickly locate them once you need them. Also, make sure you understand what tasks need to be completed and when. Creating a timeline should help keep things moving smoothly.
Think of a plan for kids and pets: If you have kids and/or pets, it is important to create a plan for them on moving day. Ask someone to keep an eye on them, so they are not in the way of the professional movers in Denver.
Check in with your neighbors: In the event you have close neighbors, it would be courteous to let them know that there will be a moving van parked on the street and also that there could be an amount of noise and activity over the course of the day. This can help avoid any potential issues or inconvenience.
Get moving permits: Depending on the city or homeowners' association, you may have to have a permit to park the truck in front of your home. Check with your local authorities to figure out if this might apply to you.
Need Help Getting Started?
Moving day is a hectic and often stressful time. But by adhering to these suggestions, you can make the whole thing less complicated – both for you as well as your movers. A-1 Freeman Moving Group in Denver is here to help you every step of the way. We are America's leading moving company in Denver, with more than four decades of experience moving people smoothly and efficiently. Let us take some of the chaos out of moving day for you – call us today!
Request a free quote