Feel Your Best When Moving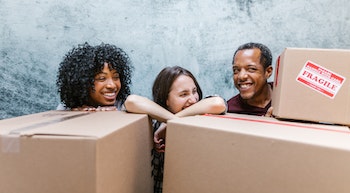 By Julie DeLong, A-1 Freeman Moving Group
As
professional movers in Denver
, we know that the summer months are the time for lots of people to move. The weather is nice, the kids are out of school, and it's amongst the simplest periods to make a fresh start in a completely new place. Together with ample sunny days and also warm breezes, it feels as though remaining healthy and well balanced would be simple enough to carry out in a summer move. Sorry to say, although, that is not always the case.
In case you are moving to Denver, and you wouldn't like to end up sick while you are carrying it out, keep a few of these recommendations in your thoughts.
Tip #1: Use All the Appropriate Tools
When you think of lifting straps, weight belts, and wrist braces, chances are good you might be picturing the clanking weights of your gym. Okay, moving is just the equivalent activity, but with an objective, and that's why you should be sure you do not hurt yourself (or your stuff) whenever moving it from point A to point B.
That's why you should be positive you've got gloves (to secure a good hold and also to keep your hands from dehydrating), braces (if you're carrying extremely weighty things you ought to brace your wrists and back, plus your knees if they are at risk), and shoes that give you cushioning and comfort without exhibiting a risk (lengthy shoelaces that you can trip over, a fit that isn't comfortable, and so on.). It's also a good idea to make use of a dolly to transport especially large items in order to save your back.
Or, if you are working with a professional moving company in Denver, they should make sure to have all the right equipment, so you don't have to fret about it.
Tip #2: Eat and Drink Regularly
It is easy to let your schedule escape from you when you're moving, yet it's extremely important to make certain you are remaining hydrated and eating regularly. You should take pains to drink water (with an occasional sports drink, if you really need it), but make sure that you are not filling up on caffeine and sugar as those items will undoubtedly dehydrate you more. In addition, don't only ingest take out. While your home's kitchen is likely to be packed up, it is advisable to ensure you're consuming ample balanced meals, along with fresh produce, just like if you are going about your regular routine.
Tip #3: Slumber
Moving is stressful, there is no two ways about it. That may eat away at your serenity and keep you up at night. Although it may seem tough, it is crucial for your health to get enough rest. Meaning you need to take some time in the evening to relax, avoid consuming caffeinated beverages, and go through a relaxation routine. Possibly even some deep breathing. Whatever you need to do to relax, so you can get your rest, you want to do that to sustain your strength while you're moving to Denver.
Tip #4: Move A Bit at A Time
There is nothing more demanding (or makes you expend more energy) than endeavoring to move all at once. That's why, instead, you need to schedule your time and your tasks. Map out what you want to pack by what time and acquire the help you need to move at a constant pace. You are less likely to injure yourself this way, it reduces your fatigue, and makes it unlikely you will injure yourself at some point of the moving process.
Tip #5: Monitor The Weather and Temperature
No matter what time of year you might be moving in, constant variations in temps, in addition to being out in adverse weather, can take its toll on your immune system. It's not going to make you sick in and of itself in the event you load up your moving van while it is raining, or if you are frequently going from cool air conditioning into hot, steamy outdoor weather, however it is likely to zap your energy. Keep in mind things similar to that and make an effort to lessen your exposure when you are able.
And please remember that the professional movers at A-1 Freeman Moving Group in Denver are at your service to assist with any portion of the moving process to help you stay healthy.
Request a free quote